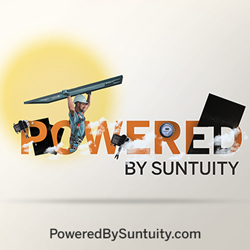 Suntuity expands its dealer network to 30 territories across the United States, giving it one of the largest solar grid footprints in the country
Suntuity's new solar dealer network has expanded to 30 territories across the United States, making it one of the largest solar arrays in the country.
HOLMDEL, New Jersey (PRWEB)
August 24, 2021
Suntuity Solar, the residential solar division of the Suntuity group of companies, announces the expansion of its dealer network program, making it one of the largest solar dealer networks in the United States. States added to the Suntuity reseller network now include: CA, MN, MO, TX, GA, OH, CT. With an extensive dealer presence spanning over 30 territories, Suntuity is actively seeking to engage with solar sales and installation companies interested in creating an additional profit center to join this expanded network. This revolutionary opportunity will not only increase revenue, but will also help businesses maximize their value to their customers.
With new partnerships and a larger footprint, solar resellers can now join Suntuity's growing network that will compete directly with other major reseller network providers.
Due to their expansion, Suntuity can offer the best redlines and adders, amazing promotions and reliable back-end operations to businesses in the market for a renewable energy partner. This program provides world-class operational support, rapid industry turnaround times for the EPC process, skilled engineering, and purchasing power for procurement.
The dealer program offers competitive pricing across the country, starting at $ 2.10 per watt in select markets.
As part of the year-end close, Suntuity is offering various cutting edge incentives including cash and prizes. Prizes include home entertainment packages, state-of-the-art devices, all-inclusive vacation packages and more, with a grand prize of a Porsche Panamera 4S E-Hybrid.
Current promotions will run until the end of 2021 and will reset on January 1, 2022 until the coming year. With a geographic presence now spanning coast to coast, Suntuity believes the time is right for solar companies to join this lucrative opportunity to generate new sales leads and diversify their business offerings to customers.
To join the fastest growing solar reseller network in the United States and learn more about the benefits of Suntuity Solar's reseller program, visit https://poweredbysuntuity.com/.
About the Suntuity Group
The Suntuity group of companies is made up of a conglomerate of global renewable energy, finance, technology and UAV services companies that develop, build and manage assets of more than 275 megawatts of energy projects around the world. . Founded in 2008 and based in Holmdel, New Jersey, the Suntuity Group currently operates in 8 countries and 10 US states.
About Suntuity Solar

Suntuity Solar (https://suntuitysolar.com), one of the nation's top 10 residential solar energy providers, provides clean, affordable energy to homeowners across the United States. Part of the Suntuity group of companies founded in 2008, Suntuity Solar is strategically positioned with advanced financing and technology that streamlines solar power as a viable energy alternative for several consumer power options. With innovative financing solutions, deep technical expertise and a global presence, Suntuity Solar and its affiliated businesses consistently deliver the best products, services and solutions.
Disclaimer:

The information in this press release has been included in good faith and is for general purposes only. It should not be relied on for specific purposes and no representation or warranty is given as to its accuracy or completeness. Nothing in this press release constitutes an invitation to invest in Suntuity Solar or any of its affiliates. Neither Suntuity Solar nor the officers, employees or agents of its affiliates will be responsible for any loss, damage or expense resulting from any action taken on the basis of this press release, including, without limitation, any loss of profit. , indirect, incidental or consequent loss. All trademarks are the property of their individual owners.
Share the article on social media or by email: